President's Club
As a member of the President's Club, you will gain access to exclusive roundtables and private briefings, expand your network in a community that cares about global affairs, and deepen your knowledge of current events, all while supporting the idea of an active US role in the world.

Thank you for your interest in supporting the Council by becoming a member of the President's Club. The Council provides nonpartisan, fact-based information on global affairs and offers you opportunities to actively participate in challenging, thoughtful discussions with world leaders, foreign policy influencers, and other international experts. We also connect you with other Chicagoans who are interested in understanding global issues and why they matter.
Become a member of the President's Club
Membership donations at the President's Club level provide critical financial support that enables the Council to  fulfill  its mission. Contributions are tax-deductible to the fullest extent of the law and can be made as one-time annual gifts or in monthly or quarterly installments.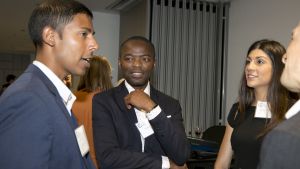 A group of President's Club members talk during a networking reception. The Council offers exclusive events such as this for members of the President's Club every year.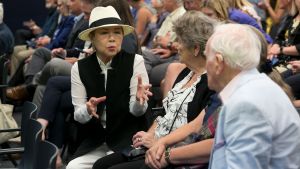 Members have a chance to talk before a Council public program. The Council offers over 100 public events open to members every year.
President's Club Benefits
In appreciation of your contribution,  we  are pleased to provide you with  opportunities exclusively for President's Club members that increase with your level of support