Chicago Council on Global Affairs Announces the 2022 Class of Emerging Leaders
July 8, 2021
The Chicago Council on Global Affairs announced its 2022 class of the Emerging Leaders program today. Selected from a pool of highly competitive applicants, the class includes 19 of Chicago's best and brightest from some of its most prominent organizations including AbbVie, the City of Chicago, the Consulate General of Canada in Chicago, the Environmental Law & Policy Center, Mayer Brown, the U.S. Department of Homeland Security, William Blair, and World Business Chicago, among others.  
Over the next year, they will engage in a rigorous program to further their knowledge of U.S. foreign policy and strengthen leadership skills. Participants will deepen their understanding of global affairs and policy through a year of skills trainings, site visits, and discussions with a wide array of policymakers and influencers. 
"The COVID-19 crisis has shown us all just how critical strong global leadership and the next generation are to our world," said Council President Ivo Daalder. "The Council is proud to work with this impressive group of professionals and prepare them to lead the way in solving today's challenges and shaping our shared global future." 
This is the 13th year of the Emerging Leaders Program. The 2022 class will participate in briefings with Council experts to explore global security, global cities, economic inequality, food insecurity and other topical global issues defining U.S. engagement abroad. They will meet with policymakers in Washington, D.C., attend Council events, and train in policy analysis and presentation skills. 
This year's class participants are: 
Hassen T. Al-Shawaf, U.S. Tax Counsel and Director, U.S. Tax Planning, BMO Financial Group 
Kate Besser, Manager, Business Transformation, LinkedIn  
Sonia Bobra, MD, MPH, Neuroradiologist, Edward Hines, Jr. VA Hospital  
Aaron Cortes, Director, STEAM Pathways, Center for College Access and Success, Northeastern Illinois University 
Daniel Fenske, Partner, Mayer Brown LLP 
Josh Gordon-Blake, Chief Operating Officer, Pangea Money Transfer 
MeLena Hessel, Senior Policy Advocate, Environmental Law & Policy Center 
Maggie Cullerton Hooper, Deputy Commissioner, Partnerships, City of Chicago 
Tanya Jeong, Associate Director, Employee Giving and Engagement,  AbbVie 
Esther Joy King, Political Candidate, Illinois 17th District, Esther For Congress  
Abin Kuriakose, Executive Vice President of Innovation & Venture Strategy, World Business Chicago 
Joyce Merkel, Vice President, Foreign Exchange Trading, US Bank 
William Miller III, Senior Manager, Forensic & Integrity Services, EY 
Satya Pandey, Director of Data Science, William Blair 
Julien Rosan, Trade Commissioner, Consulate General of Canada in Chicago 
Bria Scudder, First Assistant Deputy Governor, Office of the Governor, JB Pritzker 
Vidisha Suman, Partner, Kearney 
Beth Windisch, Regional Prevention Coordinator, Center for Prevention Programs and Partnerships, U.S. Department of Homeland Security 
The class of 2022 marks the second awarding of the David and Marilyn Vitale Scholarship. Each year, this distinguished honor is reserved for a selected Emerging Leader who exhibits outstanding qualifications for the program. Thanks to the Vitales' generous financial contribution, Abin Kuriakose will receive support for the cost of participating in the program and will have the opportunity to engage with the Vitales during the program year. 
Emerging Leader program alumni include Congressmen Raja Krishnamoorthi (D-IL) and Sean Casten (D-IL), US Circuit Judge Michael Scudder, architect and 2019 TIME 100 honoree Jeanne Gang, President of Heartland Alliance Evelyn Diaz, former Ambassador at Large for Global Criminal Justice Morse Tan, Cook County Board Commissioner Bridget Gainer, Founding Executive Director of the University of Chicago Crime Lab and Education Lab Roseanna Ander, and the Deputy Treasurer of Illinois Rodrigo Garcia. 
The Emerging Leaders program was established in 2008 and has graduated 244 participants to date. The application for the class of 2023 opens on November 1. More information about the Emerging Leaders program is available at www.thechicagocouncil.org/EL.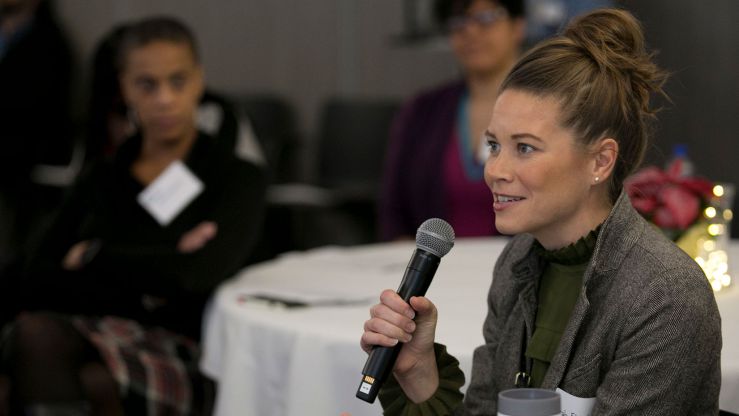 Emerging Leaders Program
Each year, we select 20 high performing, mid-career professionals from across Chicago's business, civic, and academic sectors to participate in this leadership development program and deepen their skills and experience analyzing global issues and policies.