Turkish Elections, the G7 Summit, and the Future of AI
Bethany Allen-Ebrahimian, James Harding, and Ryan Heath join guest host Carla Anne Robbins to discuss the week's top news stories.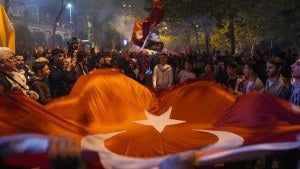 About This Episode
After a contentious election, Turkish voters will return to the polls on May 28 for a runoff election after President Erdogan and his rival Kemal Kilicdaroglu both fell short of the 50-percent threshold needed. Then, Japan is hosting the G7 summit sans China and Russia who were not invited to Hiroshima. Plus, which countries are leading the AI race? CFR's Carla Robbins guest hosts World Review with Bethany Allen-Ebrahimian, James Harding, and Ryan Heath for a discussion on these issues. 
Prefer to Listen?
Subscribe to our podcast edition on the following platforms.
China Reporter, Axios


Before joining Axios, Bethany Allen-Ebrahimian served as the lead reporter for the International Consortium of Investigative Journalists' China Cables project, a major leak of classified Chinese government documents revealing the inner workings of mass internment camps in Xinjiang. Previously, she worked at Foreign Policy magazine and the Daily Beast.


Editor and Cofounder, Tortoise Media


Before James Harding was at Tortoise Media, he was the director of news and current affairs at the BBC.


Global Technology Correspondent, Axios


Ryan Heath is the global technology correspondent at Axios and co-author of Axios Login, Axios' daily technology newsletter. Previously, Ryan was the host of Global Insider, POLITICO's global newsletter and podcast, and previously authored POLITICO's U.N. Playbook, Brussels Playbook, and Davos Playbook.


Senior Fellow, Council on Foreign Relations

Before joining CFR, Carla Anne Robbins was the deputy editorial page editor of The New York Times and chief diplomatic correspondent of the Wall Street Journal. She is also faculty director of the MIA program at Baruch College's Marxe School.