BRICS Summit, Saudi Border Crimes, Ukraine's Counteroffensive Critics
Steven Erlanger, Bobby Ghosh, and Nahal Toosi join Ivo Daalder to discuss the week's top news stories.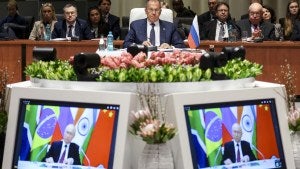 About This Episode
Wagner boss Yevgeny Prigozhin is presumed dead after a plane crash in Russia. All eyes are on the BRICS summit as the debate over expansion continues. US officials are becoming increasingly critical of Ukraine's counteroffensive strategy. And finally, the Saudi government has committed crimes against humanity at its border. The Council's Ivo Daalder dives into these issues with Bobby Ghosh, Steve Erlanger, and Nahal Toosi.
Prefer to Listen?
Subscribe to our podcast edition on the following platforms.