The Impact of Women and Gen Z on Iranian Protests
We explore how protests for #MahsaAmini have helped fuel a global movement for women.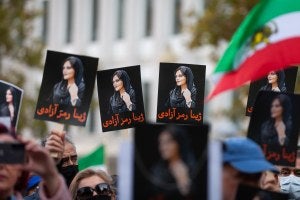 About the Episode 
Since Mahsa Amini's death in Iranian custody last September, protesters—many women and Gen Z activists—have demanded greater freedom, including an end to the mandatory hijab. Narges Bajoghli of Johns Hopkins University and women of the Iranian diaspora join Deep Dish to explore Iran's ongoing protests, their significance for the global women's movement, and the push for gender equality.
Assistant Professor, Middle East Studies, School of Advanced International Studies, Johns Hopkins University

Narges Bajoghli is an assistant professor of Middle East Studies at the School of Advanced International Studies (SAIS) at Johns Hopkins University. She is an award-winning anthropologist, scholar, and writer. She is author of the book, "Iran Reframed: Anxieties of Power in the Islamic Republic".

Vice President, Studies


Brian Hanson is the Vice President of Studies at the Chicago Council on Global Affairs. He oversees the Council's research operations and hosts the Council's weekly podcast, Deep Dish on Global Affairs.


Actor and Playwright


Tara Grammy is an Iranian-Canadian actor and playwright. She was born in Tehran, but grew up in Toronto. She is currently based in Los Angeles, California.


Iran and Kuwait Researcher, Middle East and North Africa Division, Human Rights Watch


Tara Sepehri Far is a researcher at Human Rights Watch, where she investigates human rights abuses in Iran and Kuwait. She was born and raised in Iran, but currently based in Washington DC.


Related Event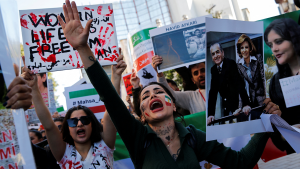 Experts discuss the movement's momentum and the deteriorating human rights situation in Iran, and how it is shaping the future of women's rights.