City Diplomacy on the Rise
Brian Hanson talks with Penny Abeywardena and Henri-Paul Normandin about cities' diplomatic agendas.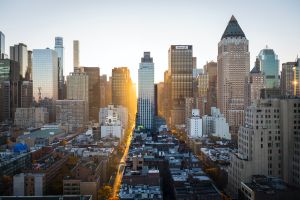 As cities grow in size and power, local governments are increasingly shaping their own diplomatic agendas independent from national governments. New York City's Commissioner for International Affairs Penny Abeywardena and Montréal's Director of International Relations Henri-Paul Normandin join Deep Dish to discuss the rise of city diplomacy.
New York City's Commissioner for International Affairs

Penny Abeywardena leads New York City's global platform for promoting its goals for a more just and accessible society. Prior to joining the mayor's office, Abeywardena was the director of Girls and Women Integration at the Clinton Global Initiative (CGI). Before joining CGI, she worked for Human Rights Watch, the Funding Exchange, and the Drum Major Institute for Public Policy.

Director, International Relations, City of Montréal

In his current role, Henri-Paul Normandin spearheads innovative urban diplomacy on local and global issues. Former ambassador of Canada to Haiti and ambassador and deputy permanent representative to the United Nations, Normandin has been involved in diplomacy, peace and security, governance, human rights, and sustainable development in Asia, Africa, and the Americas for over thirty years.

Vice President, Studies


Brian Hanson is the Vice President of Studies at the Chicago Council on Global Affairs. He oversees the Council's research operations and hosts the Council's weekly podcast, Deep Dish on Global Affairs.