New Resources for WPS Scholars and Practitioners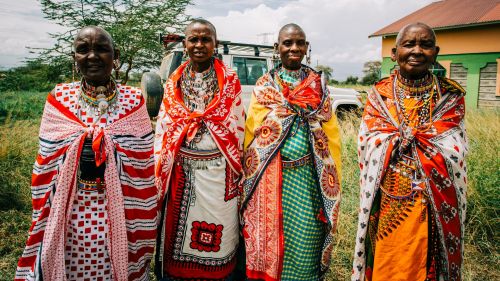 Once we learned that one of the most often-cited statistics about women is fabricated—scholars and practitioners alike were shocked.
Introduction 
In her article, "The Ghost Statistic that Haunts Women's Empowerment," Kathryn Moeller investigates the origins of a statistic often used as evidence that investing in poor girls and women contributes to economic development: Women spend 90% of their income on children, and men spend 30-40% of their income on children. Moeller ultimately uncovers that no existent study supports the widely-proclaimed statistic. Thus, the cited statistic is not based on facts or data—it is a so-called zombie or ghost statistic. The foundation for many development efforts is, quite frankly, a lie. 
Moeller's findings highlight a couple of things. First, there definitely isn't enough data on women and girls. Second, development efforts have unduly (in part because of the abovementioned popular ghost statistic) feminized their efforts so that the burden is put onto poor girls and women to solve problems. So, how can we address these two problems? 
In this second installment of the "What's Up with WPS?" series, I review two recent publications dealing with data and women's empowerment in policymaking. Together, they underscore the need for more gender data to be collected and provide valuable methodological and data resources for people working on gender equality. 
Women's Empowerment and the UN 
The International Center for Research on Women, on behalf of the Feminist UN Campaign, recently published its second report card on UN Secretary-General Antonio Guterres' policies with respect to women's empowerment and gender equality. Overall, Guterres' efforts during his second year earned a mark of B-, a slight improvement of the year prior's score of C+. The report's methodology for determining these marks is particularly useful. 
The report card, entitled Progress Under Threat, evaluates the degree to which the SG has done six things: 
Implemented a feminist leadership agenda,
Ensured feminist implementation and accountability for the sustainable development goals,
Financed for gender equality,
Utilized feminist leadership,
Enabled a feminist transformation for the Commission on the Status of Women and UN Women,and
Promoted the freedom of information in the UN system.
The marks for each of the six categories and overall grade are based on data collected from an array of sources: interviews with people working in the UN system, academia, and civil society, as well as others with UN expertise; an online survey about civil society-UN engagement shared with NGO, INGO, academic institutions, and unions; speeches from the SG; tweets from the SG; and formal UN reports released on issues of gender equality. 
Weaving together findings from myriad sources, the report's methodology provides a blueprint for evaluating any institution's efforts to empower women. A similar approach could be used to evaluate organizations like the World Bank or the European Union, or even the US Congress. Report cards on feminism could be issued for any political institution, helping us to hold policymakers accountable for cultivating lasting change and making progress towards gender equality. 
Women's Empowerment and Policymaking on WPS
Given the Women, Peace, and Security (WPS) space's expansiveness, it is often challenging to keep up to date with all the latest research and data. Recognizing this challenge, Our Secure Future published Just the Facts: A Selected Annotated Bibliography to Support Evidence-Based Policymaking on Women, Peace, & Security.
The bibliography aims specifically to help policymakers answer the question: How does implementing the WPS agenda make international peace and security efforts more effective? By providing numerous examples of rigorous empirical research that demonstrate how implementing WPS makes for more durable peace and improves security efforts, it helps policymakers answer the question and gives them a trove of resources to argue for increased support, on the ground and in funding, of the agenda's aims. 
The annotated bibliography includes research in the following four areas of the WPS space: 
Governance,
Peacebuilding and conflict resolution,
Peace and security operations, and
Countering violent extremism.
I find this annotated bibliography to be valuable for several reasons. First, it is thoughtfully organized and makes it easy to locate empirical evidence about specific elements of WPS. It simplifies finding empirical evidence to argue for the agenda's incorporation, and this kind of evidence is key to encouraging WPS integration in all policies. Second, it incorporates work from think tanks, international organizations, academic journals, and other research institutes. It can often be difficult to keep track of work being done on WPS across institutions, and the bibliography mitigates this challenge. Finally, because the bibliography highlights the overall value of the agenda, it makes a compelling case for increasing gender data's collection and availability to ensure peace and security globally. 
Future Data Resources
Both publications make unique data contributions to women's empowerment efforts. The report card provides a methodological blueprint for gathering and evaluating data about institutions' gender equality efforts. And the annotated bibliography provides a compendium of empirical evidence to support the WPS agenda's incorporation and, more broadly, the improvement of gender data. 
These resources also shed light on what more can be done to expand the data available to support women's empowerment efforts. As I explained above, one future avenue would be for more feminist report cards on organizations to be completed. Another future effort could be for policymakers and researchers to support and complete more analyses that unpack the broader socio-cultural phenomena that contribute to gender inequality, something Moeller also suggests in her article's conclusion. To understand, and ultimately transform, norms that perpetuate gender inequalities, researchers need to focus on both qualitative and quantitative data about gender dynamics. 
It is worthwhile to note that the UN report card and many of the projects included in the bibliography use primarily qualitative data. This is not to say that quantitative data is less valuable in the women's empowerment space, but rather that the most accurate understanding of inequality can be drawn from all types of evidence and methodological approaches brought together. Embracing mixed-methods approaches to understand gender inequality will help us avoid the zombie statistic problem and cultivate data that can contribute to impactful changes on the ground. 
"What's Up with WPS" series
​This is part of Katelyn Jones' "What's Up With WPS?"  series about the UN's Women, Peace, and Security agenda. Read other entries from the series.
Nonresident Fellow, Global Food and Agriculture


Katelyn Jones is a nonresident fellow at the Chicago Council on Global Affairs and her research concerns gender politics in international organizations, and is especially focused on gender mainstreaming in policy formation and implementation.