Centennial Celebration
Celebrating 100 years. Embarking on the next.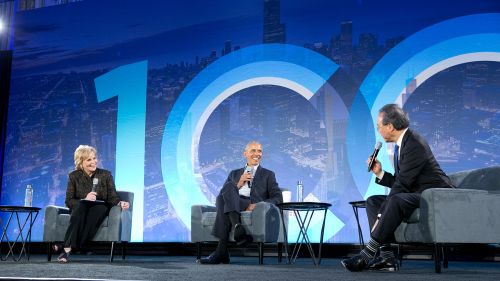 On March 10, 2022, the Chicago Council on Global Affairs celebrated its centennial anniversary at a gala dinner honoring President Barack Obama and cellist Yo-Yo Ma for their extraordinary contributions toward creating a more open and promising world for all.
For 100 years, the Council has guided the way Chicago thinks about its place in the world and how the world engages with Chicago. As we embark on the next 100 years, we are grateful to Chicago's civic and philanthropic leaders, including thousands of members and donors, who recognize the world needs the Council—an organization in America's heartland committed to empowering more people to help shape our global future.
Generous support for this centennial celebration dinner and our Second Century Campaign ensures the Council will continue to thrive for the next 100 years.
Full Video from the Event
Centennial Celebration Honorees
44th President of the United States of America


President Obama's years of public service are marked by his belief in America's indispensable leadership and strong, principled diplomacy. On the world stage, his administration ushered in an end to US war in Iraq, oversaw the capture of Osama bin Ladin, negotiated the Iran nuclear deal, and included the United States in global coordinated action to combat climate change. He delivered his first major foreign policy speech from the Chicago Council on Global Affairs' stage as a US Senate candidate for Illinois in 2004 and spoke to Council audiences two more times on his path to the White House and once as President. He was elected the 44th President of the United States on November 4, 2008, and was re-elected in 2012. President Obama and his wife, Michelle, are the proud parents of two daughters, Malia and Sasha. Photo by Pari Dukovic courtesy of Penguin Random House.


Cellist


Yo-Yo Ma was born in 1955 to Chinese parents living in Paris, where he began to study the cello with his father at age four. Three years later, he moved with his family to New York City, continuing his studies at the Juilliard School. After his conservatory training, he sought out a liberal arts education, graduating from Harvard in 1976. Ma's career is a testament to his faith in culture's power to generate the trust and understanding essential to a strong society. This belief inspired him to establish the global cultural collective Silkroad, and, more recently, to set out on the Bach Project — a six-continent tour of J. S. Bach's suites for solo cello and an invitation to a larger conversation about culture, society, and the themes that connect us all. Photo by Jason Bell.


Director, DePaul Center for Journalism Integrity & Excellence


Carol Marin is an award-winning reporter and was the political editor at NBC5 News in Chicago as well as a regular contributor on WTTW's Chicago Tonight. In addition, she worked for CBS News, 60 Minutes II, 60 Minutes, WMAQ-TV, and WBBM-TV. Marin was named a director of the DePaul University Center for Journalism Integrity & Excellence in 2016.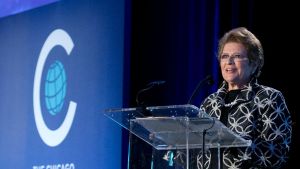 Centennial co-chair, board member, and distinguished fellow Ambassador Fay Hartog-Levin (Ret.)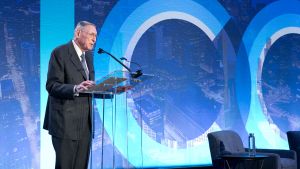 Chair Emeritus Lester Crown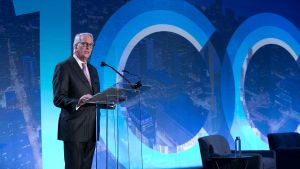 Council president Ivo H. Daalder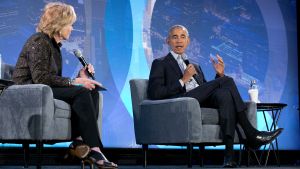 Moderator Carol Marin and President Barack Obama in conversation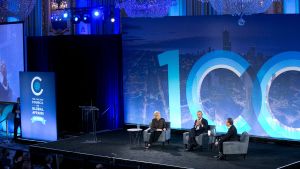 Carol Marin, President Barack Obama, and Yo-Yo Ma in conversation on-stage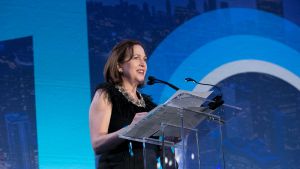 Centennial co-chair and board member Jenny Scanlon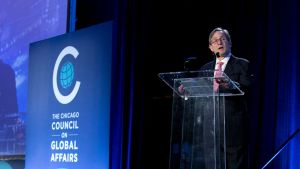 Chair of the board of directors John Ettelson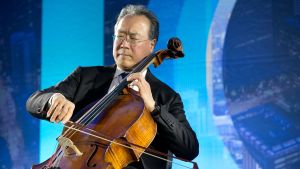 Thank you to our chairs & supporters
Thanks to the generosity of donors supporting the Council's Second Century Campaign and Centennial Celebration. A special thanks to our Centennial Chairs: Don Cooke, Lester Crown, John Ettelson, Fay Hartog-Levin, Chris Keogh, Margot Pritzker, David Vitale, Jenny Scanlon, and Sam Scott.
Robert R. McCormick Foundation
Patricia B. Koldyke and Martin Koldyke
The Vitale Family Foundation
William M. Daley and Bernadette Keller
Ambassador Fay Hartog-Levin (Ret.)
Bob Arthur, Magellan Corporation
The Cellmer/Neal Foundation
The Diamond Family Foundation
Douglas A. Doetsch and Susan Manning
Mark Hoplamazian and Rachel Kohler
Suzanne and Michael Moskow
Ambassador Louis and Marjorie Susman
Alex and Devanee Washington
Anita Blanchard and Martin Nesbitt
Bruce Braun and Diane Saltoun
Capri Investment Group, LLC
Ivo H. Daalder and Elisa D. Harris
The DeBlasio Family Foundation
Janet and Craig Duchossois
John Ettelson and William Blair
The Joseph & Bessie Feinberg Foundation
Mr. J. Douglas and Ms. Marion Cameron Gray
Dontrey Britt-Hart and Brett Hart
Mellody Hobson and George Lucas
Karen Gray-Krehbiel and John H. Krehbiel, Jr.
Marshall Street Capital, J. Douglas Gray
James and Dorri McWhorter
Patrick G. and Shirley W. Ryan
Alejandro and Amelia Silva