Harnessing AI: Tools for Urban Leaders
November 13 - 15, 2023
Artificial Intelligence is reshaping our world.
It can help efficiently deliver social services, identify workforce trends and necessary skills, and provide localized climate predictions. But without ethical and transparent use, AI can easily exacerbate inequalities, intensify surveillance, and imperil democracy.
Now, it's incumbent upon leaders at all levels to intentionally leverage AI's potential for the good of society and the planet. This type of impactful leadership is only possible when great minds are converging to share experiences and build a collaborative future.
That's why, from November 13-15, 2023, the Pritzker Forum on Global Cities will host "Harnessing AI: Tools for Urban Leaders."
Do not miss this opportunity to build a global community and connect with policymakers, practitioners, and private sector stakeholders. Join us as we explore cities where AI is already working for the common good, and capture the lessons learned along the way.



After a digital hiatus, we are delighted to welcome you back to Chicago, November 13 - 15, 2023, for three days of networking, discussions, and workshops on "Harnessing AI: Tools for Urban Leaders."
Daily Agenda
1
Mayors' Roundtable
The roundtable is a private event for mayors to connect and share experiences.
Welcome Reception
Opening night of the Pritzker Forum on Global Cities will feature the announcement of the inaugural Pattis Family Foundation Global Cities Book Award winner.
2
Mainstage Programming
A day of high-level conversations featuring panels on Harnessing AI: Tools for Urban Leaders. Panels include:
Jobs in an AI Economy
AI for Local Climate Action
Getting Past Predictive Policing
Leveraging AI for Urban Social Services
Tech is Only Part of the Solution
What's Next: Global Collaboration on Urban AI
3
Deep Dive Workshops
Dive deeper with private workshops on the prospects and challenges of artificial intelligence facing our cities. Workshops include:
AI for Good: Localizing SDGs for Global Goals
Fair and Balanced: AI and the Future of Journalism
Collaboration for a Responsible AI Urban Ecosystem
CEO, Evergreen

Jen Angel is a builder of community, momentum, and places people love. As CEO of Evergreen, Angel leads the creation of inclusive, regenerative public spaces that bring people together with nature and each other. Headquartered at Evergreen Brick Works, and supporting communities across Canada to steward better places, Evergreen is helping to build better cities for people and the planet.

Executive Director, Sustainability in the Digital Age

Micheline Ayoub, PhD, is the executive director of sustainability at the Digital Age and the Future Earth Canada Hub. Her expertise ranges from data management to multi-stakeholder partnership development to the use of AI for multi-omic data analysis in sustainable agriculture. She has 20 years of experience promoting science-based evidence and cutting-edge technology.

Project Director, Institute of Technology and Society Rio

Celina Bottino is an expert on human rights and technology, affiliated with Harvard's Berkman Klein Center, and project director at ITS. She holds a master's degree in human rights from Harvard University and formerly was a researcher at Human Rights Watch in New York and a supervisor at the Human Rights Clinic in Fundação Getulio Vargas (FGV Rio).

Senior Internet Policy Specialist, Oxford Information Labs

Outside of Oxford Information Labs, Carolina Caeiro is also an academy fellow at Chatham House. She specializes in technology governance, with a focus on perspectives from the Global South. From Argentina, she worked for Latin America's first fact-checking organization and the Internet Registry, LACNIC. She's committed to building frameworks to ensure technology has a positive impact on society.

Assistant Professor of Medicine and Data Science, University of Chicago

Ishanu Chattopadhyay is an assistant professor of medicine and data science at the University of Chicago. An expert in AI and machine learning, he designs algorithms to predict trajectories of complex systems including pathogen mutations, human diseases, and social systems. He was the recipient of DARPA's Young Faculty Award in 2020 for studying cognitive dissonance and opinion dynamics.

Co-Founder, La Nación Data

Florencia Coelho is co-founder of La Nación Data, having joined in 2006 as part of the Nueva Redacción project to familiarize journalists and managers with the potential of digital. She's a JSK Stanford Journalism Fellow, researching AI challenges and opportunities for journalism. She is focused on data journalism, open data, transparency, crowdsourcing, AI, climate change, and biodiversity crisis.

CEO, Chicago Council on Global Affairs


Ivo H. Daalder served as the US ambassador to NATO from 2009 to 2013. He joined the Council as president in 2013 and took on the new role of CEO in 2023. Previously, he was a senior fellow in foreign policy studies at the Brookings Institution and served as director for European affairs on President Bill Clinton's National Security Council. He is the author or editor of 10 books.


Nonresident Fellow, Global Cities

Kris Hartley is assistant professor of public policy at City University of Hong Kong and a nonresident fellow at the Council since 2015. He researches power and knowledge in the policymaking process, focusing on technology and the environment. Hartley has served as a Fulbright Scholar in Thailand and has published three books, including one with Cambridge University Press.

Mayor, Bogotá

Claudia López Hernández is the first female mayor of Bogotá, Colombia. She holds degrees in finance, government, and international relations, along with a diploma in urban land management from Erasmus University of Rotterdam. Hernandez also earned a master's degree in public administration and urban policy from Columbia University and a Ph.D. in political science from Northwestern University.

Group Publisher and Executive Editor, Crain City Brands

Jim Kirk is group publisher and executive editor, overseeing all business and editorial operations of Crain's Chicago Business as well as sister publications in New York, Cleveland, Detroit, and Grand Rapids, Michigan. A native of the Chicago area, Kirk also worked in the Washington bureau of Bloomberg News, overseeing coverage of the White House, Congress, and federal agencies.

Founding Director, Carnegie California


Ian Klaus is a leading scholar on the nexus of urbanization, geopolitics, and global challenges, with extensive experience as a practitioner of subnational diplomacy. Klaus co-led and served as the series editor for the Summary for Urban Policymakers, a landmark report that distilled over 8,000 pages of IPCC science into 80 pages of accessible, policy-relevant material for urban policymakers.


Head of Strategy, SkyHive Technologies

Alison Lands leads strategy at SkyHive Technologies, a global innovator in AI skills intelligence. As SkyHive's resident "skills evangelist," she partners with stakeholders across the workforce ecosystem to create strategies for skills resilience and economic mobility, including Fortune 500 employers, postsecondary institutions, national, state, and local governments, and nonprofit organizations.

Senior Technology Fellow, Aspen Institute

Ryan Merkley works across many topics including AI, open source, intellectual property, data and privacy, and information integrity. He is also the CEO of an emerging biotech non-profit, as well as an affiliate of the Harvard Berkman Klein Center for Internet and Society, the founding Chair of the Flickr Foundation, and a board member at VotingWorks.

Senior Program Director, Local Initiatives, Code for America

In his position at Code for America, Hashim Mteuzi champions race equity and poverty alleviation. His work improves local government service delivery for marginalized communities. He created the Community Fellowship Program and has partnered with 15 governments to elevate essential services to underserved people. Mteuzi advocates collective well-being and self-determination.

CTO - Investment Banking, William Blair


Satya Pandey is the CTO of Investment Banking at William Blair, specializing in implementing AI and advanced software solutions to drive transformation. He previously founded a start-up that developed an AI-powered app for home sellers. His 20+ years of experience spans the technology space, and his AI expertise is underpinned by a comprehensive understanding of the technology's impact potential.


Adjunct Associate Professor, School of International & Public Affairs, Columbia University

Neal Parikh is a computer scientist who most recently served as the first director of artificial intelligence for New York City and is currently adjunct associate professor at Columbia. Previously, he co-founded a technology startup, SevenFifty, which was acquired after 10 years in operation, and was a fellow at the Aspen Institute. He received his Ph.D. in computer science from Stanford.

Chair, Aspen Institute Board of Trustees

Margot Pritzker is chair of the Aspen Institute board of trustees and a member of the board of directors and executive committee of the Chicago Council on Global Affairs. She is the co-founder and executive chair of the Community Food Navigator, as well as a board member for Urban Growers Collective, Grow Greater Englewood, and the Israel Now Education Foundation.

Clinical Director, Office of Value Based Healthcare, Singapore General Hospital

Hairil Rizal is a senior consultant anesthesiologist and the clinical director for the Office of Value Based Healthcare (OVBH) in Singapore General Hospital. His passion for lifelong learning has led him to be awarded the National Medical Research Council of Singapore Research Training Fellowship in 2020 and the prestigious Lee Kuan Yew Scholarship by the Public Service Commission, Singapore in 2022.

Co-Founder, SEEDS

Dr. Anshu Sharma is a co-founder of SEEDS, a humanitarian organization that received the UN Sasakawa Award for Disaster Risk Reduction in 2022. Sharma has pioneered technologies for hyper-local risk assessments to help build climate and disaster resilience. He co-founded STS in 2009 as a techno-environment enterprise that enables end-to-end humanitarian interventions at scale.

Director of Experience Insights, Code for America

Jenn Thom leads a research team at Code for America focused on understanding the beliefs, needs, and values of people to create a foundation for life-changing products and services for a human-centered government. Previously, she led a team at Spotify in prototyping machine learning experiences and built language understanding models for Amazon Alexa.

President and CEO, AnitaB.org

Brenda Darden Wilkerson is an advocate for access, opportunity, and social justice for historically excluded communities in technology. She currently serves as the president and CEO of AnitaB.org, a global nonprofit organization that connects, inspires, and strives for greater equality for women and non-binary technologists in business, academia, and government.

General Director, Chequeado

Laura Zommer is a journalist, lawyer, and entrepreneur focused on disinformation and building networks. She is the general director of Chequeado, creator of LatamChequea, and co-founder of Factchequeado. She is a Knight Fellow with the International Center for Journalists (ICFJ) and an Ashoka Fellow. She is a board member of Sembramedia, La Silla Vacía, and the International Fact-Checking Network (IFCN).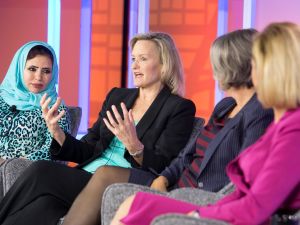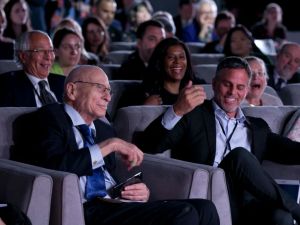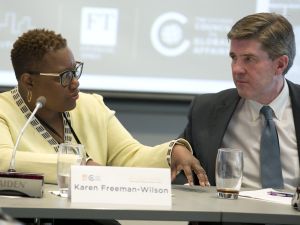 Since 2015, the Pritzker Forum on Global Cities, cohosted by the Chicago Council on Global Affairs and the Financial Times, has elevated the role cities play in addressing critical global challenges through its high-level convenings.
The 2023 in-person Pritzker Forum is invitation-only. Watch videos and see the speakers from past events.
About the Chicago Council on Global Affairs
The Chicago Council on Global Affairs is an independent, nonpartisan organization that provides insight on critical global issues, advances policy solutions, and fosters dialogue about what is happening in the world and why it matters to people in Chicago, the United States, and around the globe.
About the Financial Times
The Financial Times is one of the world's leading business news organizations, recognized internationally for its authority, integrity, and accuracy. The FT has a record paying readership of one million, three-quarters of which are digital subscriptions. It is part of Nikkei Inc., which provides a broad range of information, news, and services for the global business community.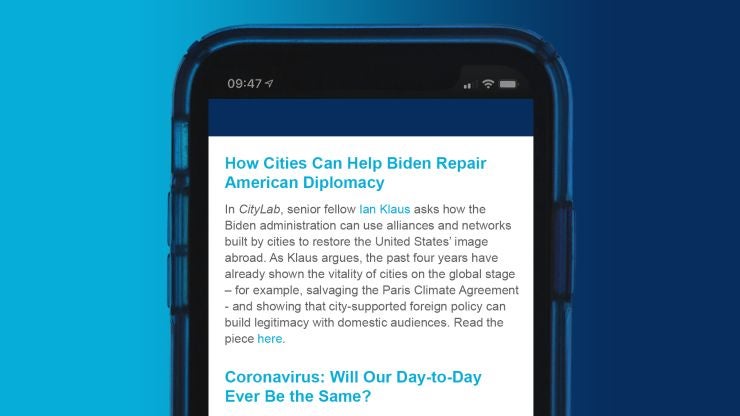 Want more?
Subscribe to "Global Cities Insights," our monthly newsletter, to receive email updates on the Pritzker Forum on Global Cities. Be the first to hear about registration, speaker announcements, and more.
For questions, contact:
Vanessa Vardon
Director, Pritzker Forum on Global Cities