Our world is connected through cities. As hubs of culture and knowledge, cities are sources of innovative solutions to pressing global issues.
From climate change to the pandemic and geopolitical instability, global crises are exacerbating environmental, health, and economic disparities—within and across cities. What policies, partnerships, and innovations can help cities adapt to these new realities and build an equitable and resilient urban future?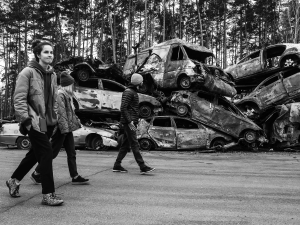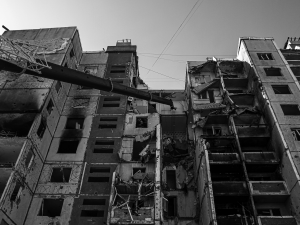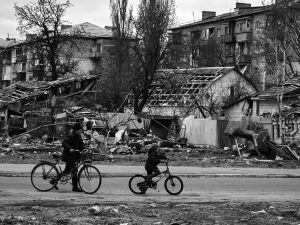 In the face of urban warfare, mayors and local communities have emerged as symbols of leadership, resistance, and resilience.
Ukraine and Cities on the Frontlines
Thursday, June 9, 2022 | 9:00 am CDT, 4:00 pm CET
About This Event
Virtual | Conference
Cities are on the frontlines, mobilizing and coordinating responses to the Russian invasion of Ukraine and the atrocities of war. In the face of urban warfare and tragic human suffering, mayors and local communities have emerged as symbols of leadership, resistance, and resilience.
We examine how cities are key actors in responding to the war; both on the battlegrounds in Ukraine and abroad providing humanitarian aid and welcoming refugees. Conversations also explore the role of cities as diplomatic actors, movement builders, and voices of humanity on the global stage, and look ahead to the critical support cities will need to recover and rebuild.
United Nations Deputy High Commissioner for Refugees


Kelly T. Clements joined UNHCR in 2015 as deputy high commissioner. She has been closely involved with refugee and displacement issues throughout her three-decade career. Previously, Clements was a member of the Senior Executive Service, serving as deputy assistant secretary of state in the Bureau of Population, Refugees, and Migration (PRM). In 2014, she was acting deputy chief of mission at the US Embassy in Beirut, Lebanon.


Governor, Khmelnitskiy Region


Sergiy Gamaliy is the chief of Khmelnitskiy Regional State Administration. He also currently serves as the head of the regional military administration. The Khmelnitskiy region of Ukraine is a humanitarian hub, with over 345,000 refugees passing through the region to the western border of the country. Previously, Governor Gamaliy studied law at Khmelnitskiy Management and Law University.


Vice President, Studies


Brian Hanson is the Vice President of Studies at the Chicago Council on Global Affairs. He oversees the Council's research operations and hosts the Council's weekly podcast, Deep Dish on Global Affairs.


Deputy Minister for Eurointegration, Ministry of Digital Transformation of Ukraine


Valeriya Ionan is deputy minister for Eurointegration at the Ministry of Digital Transformation of Ukraine. She is in charge of the digital literacy national program, development and growth of small- and medium-sized enterprises (SME), new digital professions, online child protection, and Eurointegration and digital transformation of regions in Ukraine.


Secretary General, Caritas Internationalis


Aloysius John was elected secretary general in 2019. He has previously served as director for institutional development and capacity strengthening (2013) and coordinator for international development (1998), among other positions at Caritas. He coordinated the 2004 Tsunami operations in Sri Lanka, India, and Indonesia. In 2012, he was decorated with the French National Order of Merit.


Senior Advisor to the Mayor, Budapest

David Korányi serves as president of Action for Democracy, policy advisor on sustainable energy at the United Nations, and senior advisor on city diplomacy to Mayor Gergely Karácsony of Budapest. Previously, he served as undersecretary of state and chief foreign policy and national security advisor to Gordon Bajnai, Former Prime Minister of the Republic of Hungary.

US National Editor, Financial Times


Edward Luce is the Financial Times' chief US commentator and columnist based in Washington, D.C. Prior to that role, he was the Financial Times' Washington bureau chief and South Asia bureau chief based in New Delhi.


Co-Founder and President, US-Ukraine Foundation


Nadia McConnell is co-founder and president of the US-Ukraine Foundation, where her work centers on the development of democratic institutions in Ukraine and promoting US-Ukraine relations. McConnell has previously served as director of congressional relations at the Federal Emergency Management Administration (FEMA) and as deputy assistant administrator for congressional affairs at NASA during the Reagan administration.


Director of Migration Program, Robert Bosch Stiftung


Raphaela Schweiger is the director of the migration program at the Robert Bosch Stiftung. Since joining the Foundation in 2015, she has developed numerous programs on migration and inclusion issues for policymakers and practitioners and published widely on migration governance. She also serves as chair of the European Programme for Integration and Migration (EPIM).


US Managing Editor, Financial Times

Peter Spiegel is currently the US managing editor of the Financial Times. Prior to that, he worked at the Los Angeles Times and the Wall Street Journal.

Mayor, Kharkiv


Igor Terekhov was elected Mayor of Kharkiv in October 2021. Previously, he has held senior positions in the executive bodies of local government. He has been awarded the Order for Merit and the Order for Courage, III Grade. Now, together with the best architects in the world, Mayor Terekhov leads the development of a new Master Plan to rebuild the City of Kharkiv.


10.2
million
Number of people displaced within Ukraine or forced to flee the country, as of March 25.
Source: UNHCR
11
mayors and local leaders
There have been 11 mayors and other local leaders abducted by Russian forces, as of April 3.
Source: AFP for Citizen Digital
177
municipalities
The number of municipalities who participated in #CitieswithUkraine day of solidarity.
Source: Eurocities  
2014
year the first stage of decentralization began in Ukraine
The decentralization included transferring powers and finances from the state authorities to local governments.
Source: Government of Ukraine.
Related Content
The Council's experts provide commentary and analysis on the crisis in Ukraine through past event videos, blog posts, and other content.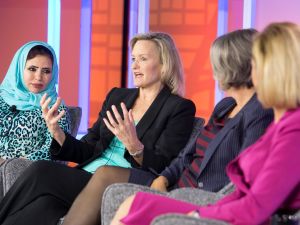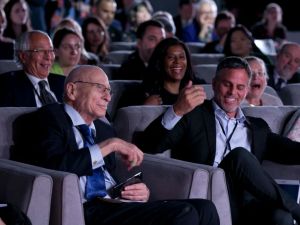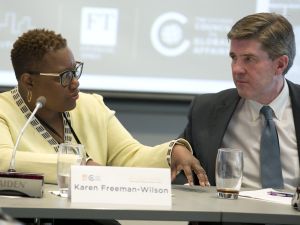 Since 2015, the Pritzker Forum on Global Cities, cohosted by the Chicago Council on Global Affairs and the Financial Times, has brought together leaders in business, civics, education, and the arts for a cross-sector dialogue on the influential role cities play in addressing critical global challenges.
Since June 2020, the Pritzker Forum on Global Cities has been reconceptualized as a platform for yearlong conversations on the most pressing issues facing cities and the critical role of cities as actors in global governance. Conversations at the Forum explore urban challenges and solutions through the lenses of governance, equity, and resilience. 
About the Chicago Council on Global Affairs
The Chicago Council on Global Affairs is an independent, nonpartisan organization that provides insight on critical global issues, advances policy solutions, and fosters dialogue about what is happening in the world and why it matters to people in Chicago, the United States, and around the globe.
About the Financial Times
The Financial Times is one of the world's leading business news organisations, recognized internationally for its authority, integrity, and accuracy. The FT has a record paying readership of one million, three-quarters of which are digital subscriptions. It is part of Nikkei Inc., which provides a broad range of information, news, and services for the global business community.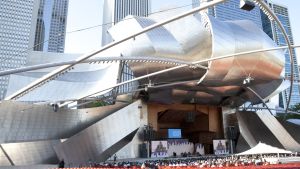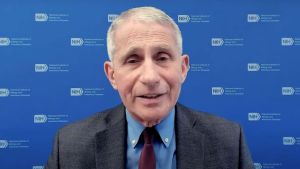 Past Events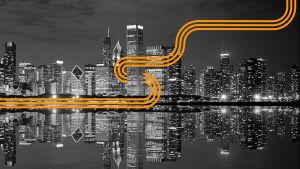 A panel of experts explores how technology can help cities create a more equitable and resilient future.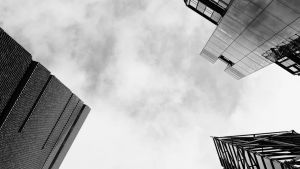 The CEO of United Airlines, the President of Microsoft, the Governor of Tokyo, and other civic and industry leaders from around the world discuss the resilience of cities and how they may revive their social and economic vitality.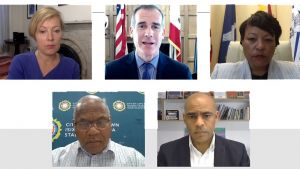 Dr. Anthony Fauci and leading city experts explored how to build fairer, healthier cities now and after the COVID-19 pandemic.

As the world deals with the pandemic and eventually transitions into a post-COVID reality, can the city remain a key instrument and platform for addressing global challenges?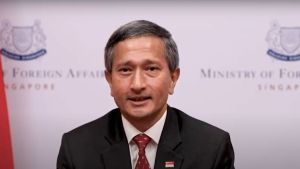 The 2020 Pritzker Forum on Global Cities was canceled due to the COVID-19 pandemic, so leaders from around the world joined us to recognize the increasingly important role of city leadership.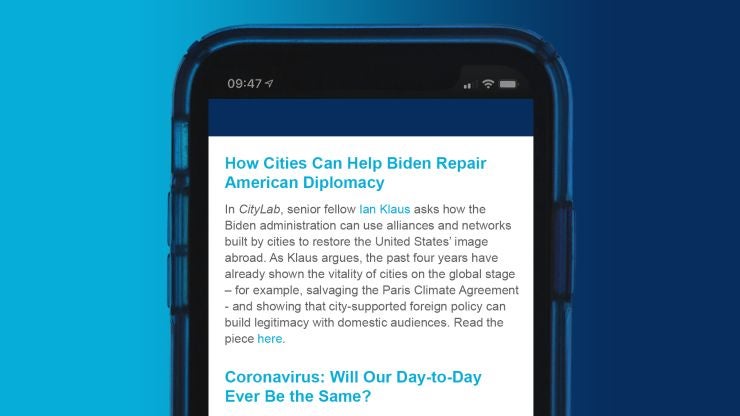 Want more?
Subscribe to "Global Cities Insights," our monthly newsletter, to receive email updates on the Pritzker Forum on Global Cities. Be the first to hear about registration, speaker announcements, and more.